David Kelly, President, Liberty First LLC – "Shana J. Black is a true Liberty First believer in our Constitution. She appreciates the need for a strong defense against the assault on our freedoms by progressive ideologues. Liberty First endorses Shana J. Black for House District 18. She is the leader we need to restore Colorado to its founding principles."
Colorado State Shooting Association – Shana Black is the candidate for gun owners in House District 18.  She not only knows how to talk about firearms but she is a prime example of a responsible gun owner. She understands that the Second Amendment is not just about hunting deer in Kevlar vests but is about personal defense and the protection of all individual rights. Her ability to articulate the need for the Second Amendment and her understanding of the laws around firearms set her up to be a champion for our rights. The Colorado State Shooting Association is proud to endorse Shana Black for House District 18.
Tito and Stephanie Bercedoni, Tito's Burritos
Michael J. Allen – District Attorney of Colorado's Fourth Judicial District
Oleg and Olga Uchitel, Seamless Choice Siding
Mary Bradfield, Representative, House District 21
James Garlow, Founder and CEO of Well Versed, Inc., leader in the "pulpit freedom" movement, and New York Times best selling author.
Bill Gohl, Novus Glass – "As a business owner in Colorado Springs for 15 years, I support traditional, conservative, business and family values that I am confident Ms. Black will bring back to our communities".
Bill McIntosh – "As the owner owner of Complete Protection Insurance I endorse Shana Black. I am so glad there is now a quality candidate to go up against these far left candidates".
Steve Schleiker, Assessor for El Paso County, CO
Bradford Pelton, Pelton Law, El Paso County, CO
Charlie Jahner, Manna Creations – "As a native of Colorado, business owner and father I support Shana Black and her traditional, conservative, business and family values."
Jeff Crank – Click here to read endorsement.
---
Shana Black for State Representative – Helping Others While Fighting For You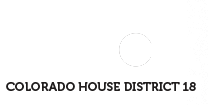 SHANA BLACK
Candidate for Colorado
State Representative
ADDRESS
Committee to Elect Shana Black
5 East Bijou Street #304
Colorado Springs, CO 80903
PHONE
719-400-9789